About the Name

Sisters Margaret and Stella Stein were the first women to enter the Western University of Pennsylvania as full-time students in the fall of 1895. Chancellor William Jacob Holland came out to welcome them as they walked to the top of Observatory Hill in Allegheny City. The Stein sisters had an advantage over previous female applicants because Chancellor Holland believed that two women could keep each other company.
Margaret and Stella made the daily journey from their home in the East End to the school on the North Side to study mathematics, their favorite subject. Although the duo had another college option that was closer to home, they preferred the program at Western University of Pennsylvania. Both continued their studies and became the first women to obtain master's degrees from the university in 1901. Stella went on to teach modern languages and mathematics at South High School, while Margaret became principal at Avalon High School.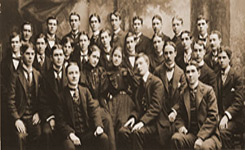 About the Store
Maggie and Stella's Cards & Gifts, established in the winter of 2005, is Oakland's premiere card and gift shop located in the heart of the neighborhood. Our newly renovated store is on Fifth Avenue between Starbucks and The University Store on Fifth. We proudly carry an array of local and handmade products created by Pittsburgh artists, along with gifts ranging from the simple and moderately priced to elegant high-end merchandise.